BIG3 Week 5: Joe Johnson's Cold-Blooded 4pt Dagger & The Matchup of the Year
We're about halfway through the BIG3 season, and there's been some noteworthy changes since Week 1.
First off, we'd like to say farewell to Jermaine O'Neal, Bonzi Wells, Lamar Odom, & Baron Davis. We'll miss watching these players light it up.
Fortunately, the league is still more star heavy than ever before.
Amar'e Stoudemire is an NBA bound stud, Stephen Jackson is a killer on the court & Gilbert Arenas is still a basketball legend last time I checked.
Nevertheless, there's no one quite like Joe Johnson. This season, Iso Joe has hit a game winner in 3 out of his 4 games, he leads the league in total points with 90 & is averaging 22.5 ppg, he's the assist leader with 4.5 apg, he's averaging 9.5 rpg, and he's shooting 40% from 4-point range. Most of all, his team the Triplets remain undefeated and appear untouchable.
Watch Joe Johnson's game winning 4-point shot against Tri-State, the first 4-point game winner of the season.
Iso Joe has been dominating the league thus far, but now he faces new competition for the MVP and a chance for the title. Reigning champion Corey Maggette has made his return in an MVP fashion.
After Power suffered their first loss of the season to Trilogy, Corey Maggette was able to make his season debut and get his team back on the right track. Power obliterated the Ghost Ballers, largely thanks to Maggette's 23 points, 14 rebounds, and lockdown defense. Plus, Cuttino Mobley was out resting this past weekend. This game would have been a massacre if he played.
Now that the captain is back, and the Chrome Beard will make his return soon, this Power team could be a problem for Joe Johnson and the Triplets this Saturday.
Without doubt, we're looking at possibly the best matchup of the year, between Joe Johnson and Corey Maggette. We can't wait for these titans to clash; a matchup that warrants a worthy and thorough breakdown.
Let's get started.
Corey Maggette vs Joe Johnson
The potential matchup of the year.
The two heaviest hitters in this game face this Saturday (7/20) at 4pm Est on CBS. The energy is going to be electric, both players are going to recognize the moment and compete to seize it.
These two are very comparable. Size wise, they're similar. Maggette stands at 6'6" and weighs about 225 lbs, a jacked 225. Joe Johnson is slightly taller than the MVP at 6'7" and weights about 230 lbs.
Both men have a very well-rounded scoring game. They like to mix it up, utilizing the post-game from the mid-range to move into the paint, also taking their man off the dribble with a cross or hesi, pulling up from 3 (or 4), and they're both elusive passers. True playmakers.
Who will come out on top?
This is the platform for a statement game, who needs to make the bigger statement…? Power & Corey Maggette.
Joe Johnson is the talk of the league; fans have already crowned him the (new) MVP and have deemed his team unbeatable. And here are the former champs and the reigning MVP, Corey Maggette, just taking it all in. It seems people have forgotten about Power's and Corey's success.
Look for Corey to be as aggressive as ever. While he doesn't have the height advantage against Joe, we believe he has the strength to back him down. Maggette likes to put his left shoulder down, push, then go right. If he's able to create space to drain shots early in the game, Joe Johnson could be in for a long night.
Once Maggette gets into a rhythm, the Triplets might throw some help defense Joe Johnson's way after Maggette forces himself into the paint, creating opportunities for the cutters and open shooters.
The best game plan for Joe Johnson on defense is to turn Corey Maggette into a mid-range jump shooter, forcing him to arc the ball over JJ's reach every time.
While we think Corey is going to have a crazy outing, we expect Joe Johnson to match him.
JJ loves the recognition he's been receiving; he'll do anything he can to remain the best player in the league in the eyes of the fans. Shooters shoot, that's what you can anticipate from Joe Johnson. With a shorter man on him, Iso Joe will let it fly, 3's and 4's. His teammates can and should set him up with screens for quick clean shooting looks, or space to drive.
Our prediction is that Joe Johnson is the high scorer of the game with 27 points, 10 rebounds, 4 assists, but Corey Maggette puts up 20 points & 12 rebounds in a victory against the Triplets.
Here are the other must watch matchups of Week 5.
Josh Smith vs Drew Gooden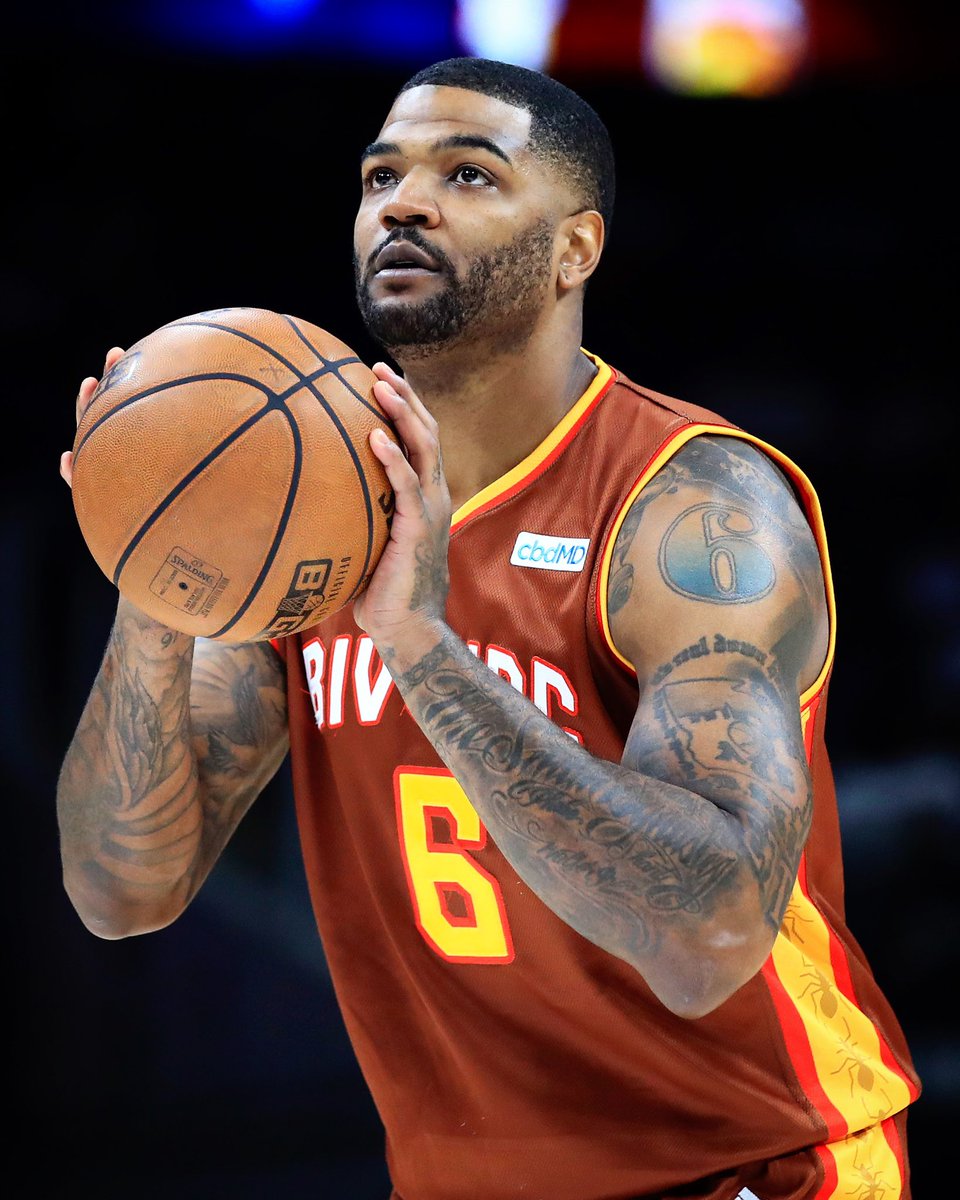 Smitty has found his rhythm.
Josh Smith continues to play well as the Bivouac recently picked up another win. His shots have been dropping, and he's finishing at the basket like he's still playing in Atlanta. Look for Josh Smith to put up big scoring numbers against Drew Gooden.
While Drew has some muscle on Josh Smith, we feel Smitty is a bit quicker and that will prove to create a lot of problems for Drew.
We predict Josh Smith to drop 18 points with 6 rebounds and 2 blocks in a Bivouac win on Saturday (7/20) 3pm Est on CBSSports.com.
Amar'e Stoudemire vs Rashard Lewis
Can Amar'e and Tri-State bounce back after enduring the brutal beating from JJ and the Triplets?
Stoudemire has a very different style than Lewis. Rashard Lewis likes to play like a shooting guard at times, hanging around the perimeter for the quick catch and shoot opportunities, and hitting J's over defenders with his typical height advantage.
But this will be difficult against Amar'e who's the same height as Rashard, 6'10".
Amar'e is going to lower his shoulder and work the post-game, as usual. He'll make cuts when he can and sneak into the paint for easy buckets when possible.
Both men will make it difficult for the other to score, therefore we're predicting lower scoring numbers for both players on Saturday (7/20) 5pm Est on CBS.
Amar'e Stoudemire: 14 points, 7 rebounds, 3 assists, & 1 block.
Rashard Lewis: 12 points, 5 rebounds, & (2) 3-point shots made.
Greg Oden vs Carlos Boozer

This should be a big game for Oden.
The Ghost Ballers biggest weakness is a lack of size. Carlos Boozer, who will probably get the matchup against Oden, is smaller and isn't as strong.
Greg Oden has surprisingly been a little shifty and quick this season, which can be difficult for Boozer to contain.
Boozer will look to drag Oden out to the perimeter where he is the most uncomfortable, then dictate the pace. He should be able to utilize his handles and small ball game against the big, rather than posting up.
Carlos Boozer will hit some jump shots and put up 10 points, but we have Greg Oden scoring 15 points with 10 rebounds and 2 blocks in an Aliens win on Sunday (7/21) 1pm Est on CBSSports.com.
Stephen Jackson vs DeShawn Stevenson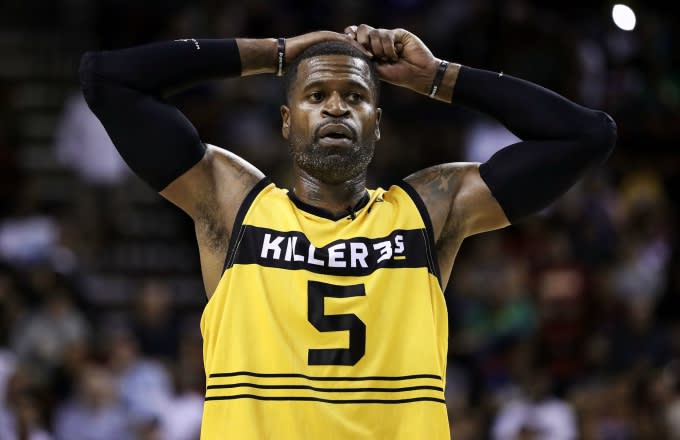 These are 2 dogs going at it on Sunday (7/21) at 2pm Est on CBS.
Both men are very able and talented scorers, but lockdown defenders as well.
The Ball Hogs have had a miserable season thus far, winless at 0-4, so we must believe DeShawn Stevenson and his team are making this a must win.
If there's anyone in the league that can stop Stak, its DeShawn. DeShawn has explosive agility; combined with elite on-ball defense, Jackson will have a tough time driving and getting around the edges.
We believe DeShawn will try to take over the game with his teams' postseason hopes beginning to fadeaway. We expect DeShawn Stevenson to score 22 points and Stephen Jackson to drop 17, but we still believe the Killer 3's will walk away with the win.
Gilbert Arenas vs Everybody
It's @no.chill.gil vs the world…
Gilbert Arenas had a slow start to the season, but he's found his place as the closer.
Both teams are hot, with back-to-back wins in the last 2 weeks. So, we expect this one to go down to the wire, and when it does, Agent Zero will be called to hit the dagger for the Enemies.
Trilogy will have all eyes on Gilbert Arenas, which will make this game winner difficult to pull off. However, in the end of the day we see Gil hitting a setback mid-range jumper to seal the deal on Sunday (7/21) 3pm Est on CBS.
Week 5 Predictions:
Bivouac: 50
3's Company: 38
Power: 55
Triplets: 53
3-Headed Monsters: 47
Tri-State: 50
Aliens: 50
Ghost Ballers: 45
Ball Hogs: 41
Killer 3's: 50
Trilogy: 48
Enemies: 50
Subscribe to Our Youtube!